The Grammarly is the world's leading automated proofreader and here we try to teach you How to Use Grammarly Tool. It's an easy to use and amazing tool that finds and corrects writing mistakes of the users in their writing documents. It is a great English language writing-enhancement tool that checks for more than 250 types of spelling, grammar and punctuation errors in our writing. It was developed by Grammarly, Inc., and was launched in 2009. The headquarter of Grammarly Inc. is situated in San Francisco, with an additional office in Kyiv, Ukraine.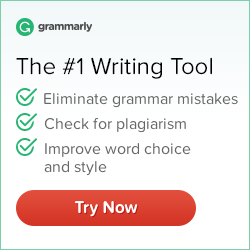 The Grammarly Inc. was founded by Alex Shevchenko and Max Lytvyn in 2009 and the chief executive officer of company is Brad Hoover who is an investor having background in engineering. He learned about Grammarly when he was searching for an automated proofreading tool for his own writing. The best thing about grammarly is that it can proof read any text whether we talk about an academic paper, a business cover letter, a casual email, or even a novel. The Grammarly tool has the slogan "The World's Best Grammar Checker" which is very true as it serves its users with the best services to check the mistakes or errors in their writing and to write efficiently. In 2013, the Grammarly won the TopTenReviews Gold Award with rating 8.88. The Grammarly not only offers online text editor, it also provides a free browser extension for Chrome and Safari, which has the capability to correct upto 150 types of errors.
How to Use Grammarly Tool ?
As discussed above that the Grammarly is the world's most accurate grammar checker that serves its users with amazing features to write error free efficient writing. The Grammarly provides more than 250 advanced grammar rules, contextual spelling checker and vocabulary enhancement, etc. To use the Microsoft Word and Outlook on Windows, you need to avail the Grammarly Add-in for Microsoft Office to have the world's most accurate spell and grammar checker. Whether we talk about free and Premium Grammarly accounts, the Grammarly add-in is now available for everyone. The Grammarly supports various operating system types, Windows 7, Windows 8, Windows 8.1, Windows 10 and Windows OS on a Mac computer. Here is How to Use Grammarly Tool with all features. The Grammarly can be used as following:
Firstly you have the download and install the Grammarly add-in for Office
Now, click the Enable Grammarly button in the Home tab and the Grammarly sidebar will appear on the screen
Now, choose the specific writing issues that the Grammarly will check
Click on the alert card to make corrections
Choose the desired document types. It provides 30 different document types that provides you the most relevant corrections for your writing
How does Grammarly Work ?
The Grammarly is the world's best online proofreader which automatically detects grammar, spelling, punctuation and style mistakes in your writing(How to Use Grammarly). It quickly finds all the errors in your writing making it efficient and error free. The Grammarly can work online anywhere whether we talk about a Word document, a tweet, an email, or a Facebook post or anything else. The Grammarly tool is very easy to use which is as follows-
Firstly, open the Grammarly online text editor then copy and paste any English text into it. You can also install Grammarly's free browser extension for Chrome and Safari.
The Grammarly tool uses Grammarly algorithms which detects issues in the text and suggest context-specific corrections for grammar, spelling, and vocabulary. It provides reason behind all the corrections in your writing so that you can know why and how the errors or mistakes in your writing were corrected. Get here grammarly discount for students.
How to Change the Grammarly Default Settings ?
You can manage the default settings from the setting dialog directly. Just click on the Settings to use the Grammarly settings within Word. With this you can do the following-
View your account information
Check for updates to the Grammarly Add-in
Enable Grammarly automatically for every document you create
Configure proxy settings
The Grammarly offers 'Grammarly answers' which is an online community that helps writers to ask and answer questions on English writing. It also provides 'Grammarly Facebook community and Twitter account' which offers grammar tips and discussions to its users, 'Grammarly Handbook' which is an English guide offering English grammar and style, and 'The Grammarly Blog' which provides daily useful tips to its users for a better and efficient writing. So Today we share "How to Use Grammarly Tool" and its features.